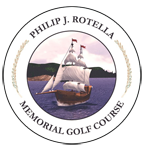 Driving range is always OPEN
and lessons are available!

We are also offering several junior programs in our learning center, visit our other instructional site at Rotellagolf.com for more information.

Keep in mind! We will match or beat anyones price on Golf Equipment! Email your pricing requests at Laudien@laudiengolf.com
WELCOME TO PHILIP J. ROTELLA GOLF COURSE

In the early 1980s, the Town of Haverstraw purchased a portion of the Letchworth Custodial Property from the state of New York. As part of the agreement, the area was designated "Parks and Recreation". Town supervisor Philip J. Rotella and coucilman Thomas Lawless decided to utilize the property as a public golf course. The course was designed by Hal Purdy and took two years to build. The 6,517-yard, par 72 course opened in 1984.
The original name for the facility was the Minisceongo Golf Course. However, to honor their longtime Town Supervisor, Haverstraw officials decide to name it the Philip J. Rotella Municipal Golf Course. In 2002, the course was renamed the Philip J. Rotella Memorial Golf Course.
Through the years many improvements were made to the golf course by the town's Highway Department personnel. Adding and repairing bridges, cart paths, drainage and stonewalls were all part of their efforts. In 1999, the Town of Haverstraw hired architect Stephan Kay to further improve the course. New bunkers, tees and a total redesign of several holes took place. Improving playability, safety, aesthetics and speed of play were the goals of the project. Construction began in 1999 and was completed by the spring of 2003.
Michael Laudien is our PGA Head Golf Professional and GM for the past 19 years. Chris Dyroff our is on his 6th season as the Golf Course Superintendent at Philip J. Rotella Memorial Golf Course and been doing an awesome job. Recently he has rebuilt the 8th, 9th and 10th tee boxes. He has rebuilt the 2nd, 3rd, 7th, and 10 greenside bunkers. We hope you enjoy your visit to the Haverstraw golf course!
There is always a new reason to enjoy a day of Haverstraw golf and fun times with family and friends at Philip J. Rotella Memorial Golf Course. Golf is the ideal way to enjoy the outdoors and the company of others. Reserve your next tee time with Rotella by contacting our Automated tee time reservation sysytem at: (845) 354-1616 extension 1 or click here to reserve your tee time!